Your Smartwatch Loves Tasker!
Every tech enthusiast looks forward to handling some sort of smartwatch.
These are hot years for this kind of devices, and new models are coming out quickly. In particular, there are many devices, belonging to the low end category, which wear a proprietary firmware, which does not allow to install new applications or customize the device. This is the case for example of the U8 smartwatch, by U Watch.
This ebook aims to give you some skills and a method you can use to enhance your smartwatch experience.
Combining some basic features of this kind of smarwatches (the ability to make calls and the ability to receive phone notifications) with the power of Tasker (an android application you can find in the google play store), you can really get more from your wrist, and with some tricks simulate some of the awesomeness an android wear device provides by itself.
After a brief introduction to the concept behind this approach, and some Tasker notions, you'll be guided through a series of real working examples and at the end you'll be ready to write your own scripts and get the most out of your low end smartwatch.
Too expensive for your wallet?
Subscribe to this blog and you'll receive a 1€ discount code, or ask me for a special prize!
---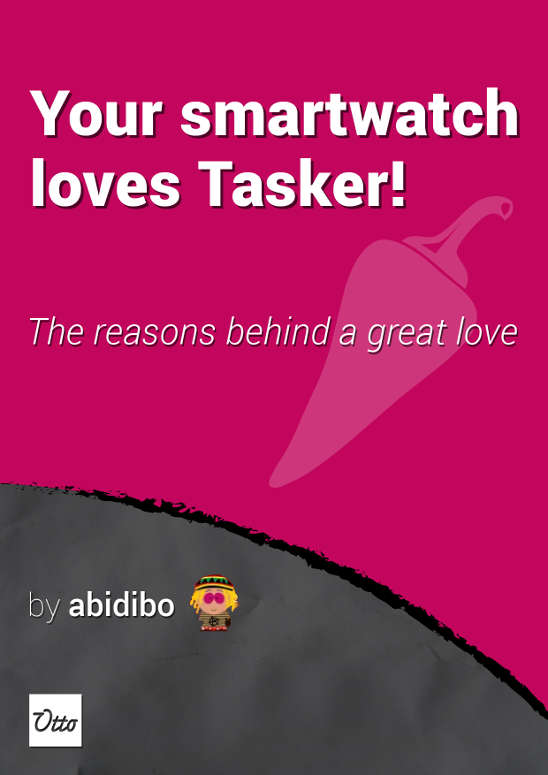 Table of Contents
(45 pages in a4 format)
Introduction

What is this e-book about?
Prerequisites

The concept

The concept behind this book

Tasker

Projects

Profiles
Tasks
Scenes
Vars

Wrap up

Examples

Hello World
Tomorrow's Forecast
Help me
Calculator
Send shorts texts

Enhancements

Speech recognition application
Use utter! as speech recognition application

Conclusion
---
How to purchase it
Buy it here, you'll get 1 EPUB and 1 PDF
---
Amazon
If you prefer, you can also buy it on amazon (epub version), at this url:
http://www.amazon.com/Your-Smartwatch-Loves-Tasker-reasons-ebook/dp/B01BDI9OEA/
Bookrepublic
If you prefer, you can also buy it on bookrepublic (epub version), at this url:
https://www.bookrepublic.it/book/9788895285634-your-smartwatch-loves-tasker/