PHP Projects
I've worked with php for many years, I usually develop modules and extensions for Jeff php framework and GINO, which are the main software I use at work, but I also have experience with Joomla, Wordpress, SMF, phpBB and other software.
Sometimes I have time to create GitHub projects, and sometimes I've time to update the following list.
Jeff Php Framework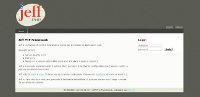 Jeff is a lightweight and extensible framework, it makes use of some design patterns in order to grant modularity end encapsulation (MVC, factory method, singleton). The project is hosted on github, feel free to fork, edit, use it. Pull requests are welcome!