How to get the best of your low end smartwatch
You can also be interested in:
On April 1, 2015 I wrote an article about how to get the best of your U8 smartwatch, it turned out to be the most read content om my website, summing now more than 88k visits.
The article shows a way to enhance the U8 smartwatch capabilities with the help of Tasker, an app available on the google play store.
Even if my original article targeted the U8 smartwatch by U Watch, indeed the concepts and ideas fit well also for every other low end smartwatch with proprietary firmware (and so not customizable), having this two basic features:
ability to perform calls through a dialer
ability to receive phone notifications
I talk about low end smartwatches because who can play with an androidwear based watch can easily found every kind of app he search for, and probably can send texts, receive weather notifications and use voice commands out of the box (if this is not your case, then maybe you'll find my articls useful).
I decided then to invest time in this argument and I wrote my first e-book available here for purchase at the special introductory price of 3.79€.
The concepts written in the e-book are more or less the same you can find in my site for free, but are discussed more comprehensively (with guided steps and screenshots), and Tasker is presented in a better way, allowing also the most unexperienced users to benfit of the idea behind all this.
This can be also a good way to support this blog :)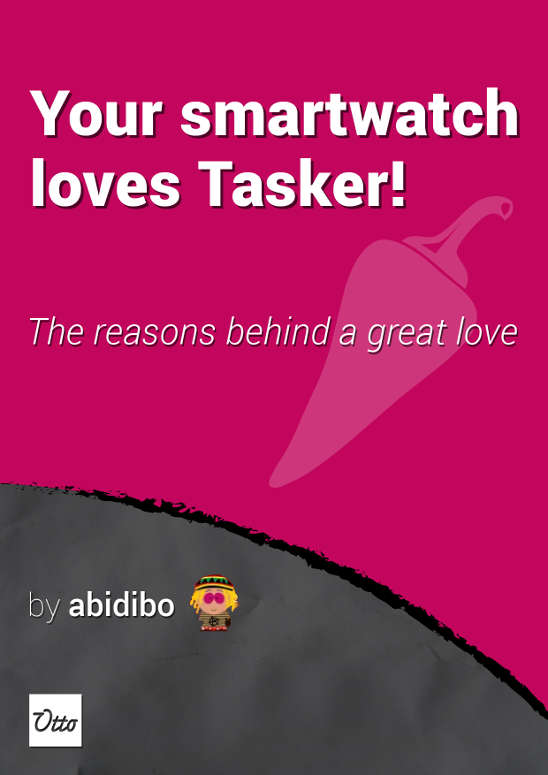 Your Smartwatch Loves Tasker!
This ebook aims to give you some skills and a method you can use to enhance your smartwatch experience. Combining some basic features of this kind of smarwatches (the ability to make calls and the ability to receive phone notifications) with the power of Tasker (an android application you can find in the google play store), you can really get more from your wrist, and with some tricks simulate some of the awesomeness an android wear device provides by itself.
Buying it you'll receive both an epub and pdf version of the book.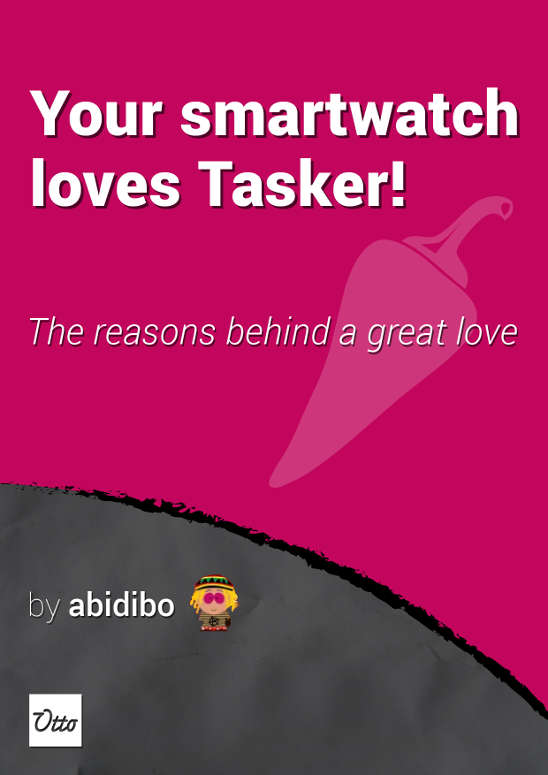 Your Smartwatch Loves Tasker!
Archive
2021
2020
2019
2018
2017
2016

Oct
Jun
May
Apr
Mar
Feb
Jan

2015

Nov
Oct
Aug
Apr
Mar
Feb
Jan

2014

Sep
Jul
May
Apr
Mar
Feb
Jan

2013

Nov
Oct
Sep
Aug
Jul
Jun
May
Apr
Mar
Feb
Jan

2012

Dec
Nov
Oct
Aug
Jul
Jun
May
Apr
Jan

2011

Dec
Nov
Oct
Sep
Aug
Jul
Jun
May